Arheologija

Umjetnost

Biološke nauke

Bizniss & Menadžment

Hemija

Kompjuteri & Kompjuterske nauke

Zemaljske nauke

Ekonomija i finasije

Obrazovanje

Elektronika

Inženjerske nauke

Geografija

Istorija

Jezik

Pravo

Literatura

Marketing

Matematika&Statistika

Upravljanje i Menadžment u Medicini

Medicina & Zdravlje

Muzika

Sestrinstvo

Filosofija

Fizika

Politika

Psihologija & Neuropsihologija

Nekretnine

Društvo, Kultura. & Okruženje

Sociologija

Programiranje

Sport

Novi naslovi

Experiencing the LifeSpan

Autor

ISBN

Izdavač

Oblast
Psychology & Neuroscience Reference

Datum izdavanja:

2015.

LaunchPad is an interactive online resource that helps students achieve better results. LaunchPad combines an interactive e-book with high-quality multimedia content and ready-made assessment options, including LearningCurve, our adaptive quizzing resource, to engage your students and develop their understanding.

LaunchPad for Experiencing the Lifespan, Fourth Edition features:

A interactive e-book with integrated book-specific student media, including Experience the Lifespan immersive activities

LearningCurve adaptive quizzing offering individualized question sets and feedback (with e-book links) for each student based on correct and incorrect responses.

New! Video Assignment Tool makes it easy to create assessable coursework based on videos from LaunchPad, YouTube, or elsewhere on the Internet.

An easy-to-use Gradebook to monitor the whole class or individual students.

Optional pre-built units, curated by the book's authors or other experienced educators and fully customizable.

All instructor resources (PowerPoints, book images, teaching suggestions, and more) in one convenient location.

Easy LMS integration into any learning management system.

For more information on LaunchPad including how to request a demo, access our support centre, and watch our video tutorials, please visit here.




Novi naslovi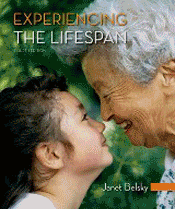 Izdavači